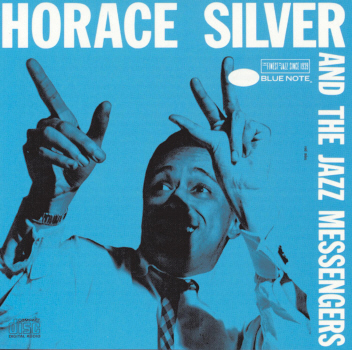 A site with "Hard Bop" in its title can hardly begin a list of recommended recordings without starting with Horace Silver.
"Horace Silver and the Jazz Messengers" (Blue Note, 1954) is probably the logical place to start. You certainly can't go wrong with "Doodlin'," which as good a way as any to get acquainted with the master pianist's sly compositions. As Miles Davis told Silver when he first heard it, the tune is definitely "funky," the keyword in describing the most distinctive of his music. My favorite song on the album, though, is "To Whom It May Concern," a medium-tempo feature with the kind of descending melody to which I've always been susceptible.
Honestly, though, when I crave early-to-mid '50s Silver, I'm mostly likely to put Columbia's "The Jazz Messengers" (1956) into the changer. There, in my view, is the quintessential Silver composition of that decade, "Nica's Dream." Silver could always be relied upon to do amazing things in the Latin idiom, and here is a prime example. "Ecaroh" is another standout from his pen, and the band turns in stellar work on the standards "The End Of the Love Affair" and "Ill Wind."
Silver's first masterpiece after leaving the Messengers was "Six Pieces Of Silver" (Blue Note, 1956), featuring the debuts of two much-covered classics, "Señor Blues" and "Cool Eyes." Here he is in 1959 playing the former:
"The Stylings of Silver" ( Blue Note, 1957) has one of my favorite covers (at right), and another one of the tunes I come back to frequently, "The Back Beat." I sometimes use this one to introduce Silver to curious friends, along with "Nica's Dream." "Home Cookin'" and "No Smokin'" are among the other standouts here.
"Doin' the Thing" (Blue Note, 1961), is one of the relatively few live recordings Silver made. Plenty to enjoy here, including the medley of "The Gringo/The Theme/Cool Eyes," and "Kiss Me Right." It's probably most notable for the definitive version of "Filthy McNasty."
Silver then went on a run during which he could do no wrong. "The Tokyo Blues" (Blue Note, 1962) is one great tune after another — the title track, "Sayonara Blues," "Ah! So," and "Too Much Sake."
"Silver's Serenade" (Blue Note, 1963) is another strong album, with an irresistible title cut and gems in "Let's Get To The Nitty Gritty" (later the title of his autobiography) and "The Dragon Lady."